I'll be there anytime you need help
✦ Trust from the children ✦
Someone says that when you need immediate help the first person you think of is the one you trust the most. Maybe for Tao, the most trusted person in the world is his mentor Xiaoyan.
One evening, Xiaoyan received a call from Tao: "Yan, could you please come over as soon as possible. My younger sister has a bone fracture. I don't know what to do now!" Hanging up the phone, Xiaoyan drove to Tao's home right away. When she arrived, she found Tao and his three younger sisters were in floods of tears. Time waits for no man. While telling Tao to take care of his other two sisters, Xiaoyan picked up the sister with a bone fracture and drove her to the hospital at once. She took all the trouble to help the girl get emergent treatment and it was not until the next early morning did she take her back home.
Tao is a junior high school student. He has one elder sister and four younger sisters. Their parents work away from home throughout the year. Tao's elder sister has been taking care of the family. But this year she attends a boarding school, Tao takes the responsibility of caring for his younger sisters and he feels overwhelmed by the mounting pressure.
Xiaoyan knows how Tao is doing with his younger sisters. She visits them regularly, provides them emotional support and, even when she is off work, she helps them whenever necessary.
Xiaoyan is not the siblings' mama but she gives them motherly care. She has all their trust and they think of her the first moment they need help.

A call from a stranger
✦ Trust from parents✦
Xiaoyan's phone rang and it was an unknown call. She answered it anyway and heard the helpless voice of a man.
"Yan, I'm Jiajia's father. Sorry to call you so late but I need your help. Jiajia will go to junior high school soon. Parents are required to present themselves at the school-opening ceremony. I am working away from home and can't make it to the ceremony. Jiajia said you can go with her. So, I am calling to ask you a favor."
Behind the call is a parent's trust for Xiaoyan and for Chunhui Children. The first day of junior high school is an important milestone for children and no parent wants to miss it.
Jiajia's helpless father wants her mentor to fill his shoes because he trusts and acknowledges Chunhui Children. This is incredible encouragement to us and will motivate us to go even further.
Both trust and responsibility
✦ Trust from the community✦
In this picture, on top of the high-rise building sits an 18-year-old girl named Li. She had been living with her parents in another town and moved to the resettlement area Chunhui Children serves not long ago.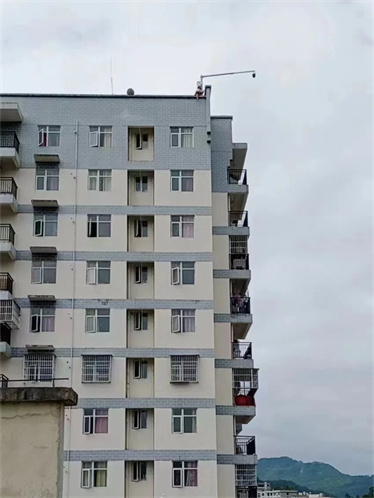 That day, Li was found sitting on top of the building. Her life hung by a hair. The first moment the community's CPC committee secretary learned what the girl was doing, he contacted her Chunhui mentor and together they went up to the top of the building as well. They consoled Li, took her down to the activity room and informed her mama. The child mentor found Li had many wounds and sutures on her arms.
Li kept crying and took quite a while to calm down. The girl has a family of 5 members. They live on government-granted basic subsistence allowances. Li and her elder sister both suffer from depression and received treatment in the hospital. The day before she was found on the building, she had swallowed 20 anti-depression pills and was taken to the hospital for gastro lavage. To make it worse, her mama dumped her cell phone, the mother and daughter had a fierce quarrel, and in a fit of pique the girl made an attempt to commit suicide.
Li's Chunhui mentor (with psychological counselling background) had heart-to-heart talks with her and shared communication skills with her mama. She drove Li and her mama home and, before she left, made sure the girl was put under good care. Later on, Chunhui Children communicated with the community's CPC committee secretary and together they facilitated professional treatment for Li.
Although it's not been long since Li was enrolled in Chunhui Children's program, the community turned to Chunhui Children for help the first moment they found the girl had trouble. This trust is full recognition of Chunhui Children's unswerving commitment over the past year.