Recognition and strengths

Child welfare is the responsibility of civil affairs administrations, and child evaluation is a part of third-party services procured by governments. In Sept, Chunhui Children took a fund of RMB 600,000 from Jiangxi government to evaluate at-risk children in the province. Over all these years since it partnered with governments, Chunhui Children has always honored its commitments with top speed and quality. As a charitable organization running programs nationwide, it is capable of gathering together a team of professional staff expertized in child care and education within very short time. This is the reason why Chunhui Children stands out.
1. Psychological evaluation is the prelude to support of development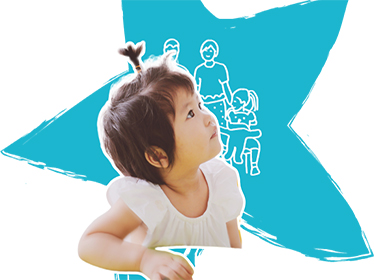 People understand psychological evaluation differently. Most may believe it is used to diagnose mental disorders. It is actually much more than that.
What is psychological evaluation?
○Psychological evaluation was first used to study and diagnose mental disorders. But as people learn more and more about themselves, it is developed and opens up to all adults and children.
○A psychological evaluation is generally a means of evaluating a person's psychological or emotional state. Mental health professionals use a variety of tools like behavior observation, interviews and tests to gain insight into the person's behavior models, emotion fluctuations, motivations and personality.
○Human beings are very complicated individuals, and it is risky to base evaluation on first impressions. Like physical checkups cautioning us against physical problems, psychological evaluations help us identify potential mental problems and keep us in good health. A professional, such as a family doctor, psychologist, or psychiatrist checks to understand our experiences and ideas, identify our strengths and challenges, provide a comprehensive description of our current state, and then develop a follow-up support plan.
We may take evaluation as the start of a new developmental stage. Chunhui Children is convinced that everyone has unlimited potentials. This conviction is of critical importance to vulnerable groups. Development of those potentials need consistent support from others. Undoubtedly, psychological evaluation of the vulnerable groups is essential to hep them get over their challenges and start to pursue self-development.
2. Use of standard checklists; Focus on observing and bringing hope
Standard checklists are essential for evaluations, for instance, the Stanford-Binet Test & IQ Scale designed to assess a person's intellectual levels. Chunhui Children targets its evaluations at orphaned and at-risk children. It uses a package of checklists, such as PEDI for children with lower levels of abilities and psychological health measuring scales for elementary & middle school students.
Checklists help document a child's development. Last December, Chunhui Children evaluated 500 orphaned children in Guizhou Province and completed 2136 checklists. These checklists enable us to understand the challenges of orphaned children as a group, such as physical special needs and lack of family care.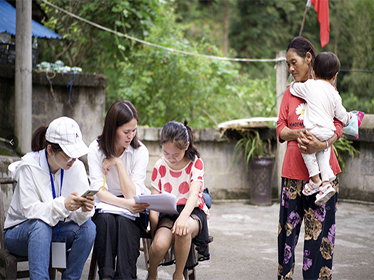 Chunhui Children's evaluation teams use checklists not only to record, but also to inspire. They believe each child is special and challenged in different ways, so they pay them individualized attention. Clearly defined evaluation results reflect a child's physical, mental and emotional wellbeing and, more importantly, inspire concern, love and support for him/her. Chunhui evaluation teams are well aware that orphaned and at-risk children have been through a lot, so they evaluate not to judge, but to help the children find hope for a better future.
3、Saving lives, within any profession, is always a race against time
Take Chunhui Children's evaluations in Ganzhou as an example. Chunhui evaluation teams were informed of the task on Sept 12 and gathered in the city on Sept 14. Some of them had just returned from another business trip and some others had been working away from home for a month. But this didn't hold back their passion. From Sept 15 to 17, they met each child in each county-level welfare institution of Ganzhou City.
After the evaluation, we had an interview with director Zhang of Ganzhou Welfare Institution. "We chose Chunhui Children as our evaluator from among a number of organizations. From the pre-evaluation coordination to onsite evaluation, its teams stayed professional, efficient and dedicated. I am really impressed. Compared with our initial evaluation, your reports are more complete and informative. We were right to choose you," said Zhang "Some of you come from very far away and most often work late into night. We appreciate it a lot."
Chunhui Children's evaluation teams always act with drive and efficiency. Orphaned children evaluation in Guizhou last Dec and Ganzhou evaluation late this year covered 2738 children in total. In August, within a week, they visited more than 360 families in 142 villages, 64 townships of 10 counties under the jurisdiction of Tongren City.
They all know that evaluation results and follow-up support could change lives. Time matters. The earlier they arrive, the sooner they meet up with the children and bring hope to them.
4、Behind hard work is unswerving commitment to saving lives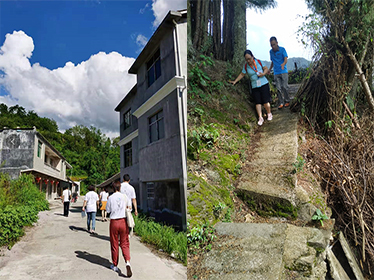 Chunhui teams win trust from governments with its years of dedication to the children. It started its programs with orphaned children in welfare institutions. Hu Qunhua, a mother of two kids and trainer based in Nanchang City, Jiangxi Province, has been working with Chunhui Children for 12 years. She has served quite a number of typical children and now focuses her efforts on those with intermediate or severe special needs. Even nowadays, in some remote poorly resourced areas, children with special needs are still abandoned. Despite hefty workloads, our trainers try their best to help these children because they know they have been forgotten for so long in a world they shouldn't belong.
Each child deserves to be treated nicely and need be provided with individualized support. Like Qunhua, many more loving women of Chunhui Children will continue to spend one decade after another touching the lives of needy children.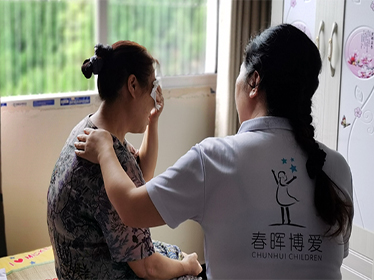 For these extraordinary women, working with children is a passionate pursuit. They know that lives are vulnerable but, with a little help, even the most fragile lives have a chance to blossom. As a charitable organization, Chunhui Children stays steadfast in its commitments to the children. Even in modern society, it is not easy to advocate for disadvantaged children. Chunhui teams, however, spare no pains to bring sunshine into the lives of these children. They travel all the way to them, to hold their hands, earnestly look at them in the eye and take them into their arms.