On June 28, 2021, during the 47th session of the UNHRC, China NGO Network for International Exchanges hosted the video conference "civil forces's contribution to development rights amid turbulent changes". Experts and leaders of social organizations from China, Pakistan,India, Bulgaria, Sri Lanka and Kazakhstan participated. Chunhui Children addressed the conference on behalf of Chinese social organizations.
Chunhui Children was granted special consultative status with the Economic and Social Council, UN in 2020. In her speech, Chunhui CPC branch secretary Nancy Li profiled Chunhui's orphanage and village program models for vulnerable children.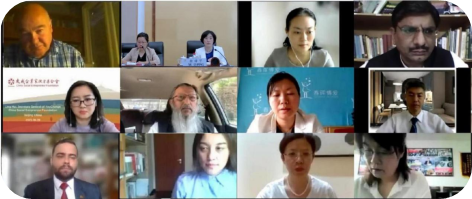 In the Universal Declaration of Human Rights, the United Nations has proclaimed that childhood is entitled to special care and assistance. The family, as the fundamental group of society and the natural environment for the growth and well-being of all its members and particularly children, should be afforded the necessary protection and assistance so that it can fully assume its responsibilities within the community. The child, for the full and harmonious development of his or personality, should grow up in a family environment, in an atmosphere of happiness, love and understanding. And the child should be fully prepared to live an individual life in society and brought up in the spirit of the ideals proclaimed in the Charter of the United Nations and in particular in the spirit of peace, dignity, tolerance, freedom, equality and solidarity.
China is a contracting country of the Convention of the Rights of the Child (United Nations). As a domestic foundation engaged in child welfare, Chunhui Children has borne witness to the Chinese government's steadfast commitment to child care. It makes every effort to perfect applicable laws, regulations, policies, systems, mechanisms and measures. With support from governmental departments and the wide social public, child welfare, following the guidelines of Chairman Xi Jinping on civil affairs and starting with orphaned and abandoned children, has been growing and thriving.
Growing policy support has spurred a boom of social organizations. Chunhui Children endeavors to maximize interests of the children it serves, and help guarantee their rights to survival, development, protection and social engagement. Up till now, it has invested nearly RMB 300 million in training 63000 child caregivers and serving a total of approximately 200,000 disadvantaged children, including 178000 orphaned children in welfare institutions, 21000 left behind children in rural areas and 3200 children afflicted with life-threatening diseases. Chunhui's footprint has covered 115 welfare institutions in 31 provinces, cities, autonomous regions and municipalities of China. As the Ministry of Civil Affairs steps up efforts to guarantee care for de facto unattended children, and the percentage of orphaned children with severe special needs among all orphanage children keeps increasing, Chunhui Children's Foundation, which has partnered with 71% of China's state-run welfare institutions, will continue to advocate child welfare policy and promote the transition of welfare institutions so as to meet the national and social needs for better serving the needy young.
As Chairman Xi said, the Chinese dream is a dream of the whole nation, as well as of every individual. In pursuit of our country's rejuvenation, helping the vulnerable is an important part of the national drive to push cultural and ideological progresses. Child welfare plays a fundamental role in protecting and improving livelihood. It's important to target our support at children in need, solve pressing problems, guarantee livelihood, share achievements of national reforms, and help create a brighter future for the children. Chunhui Children will strive to provide better service for disadvantaged children, empower more child welfare institutions with edge-cutting concepts, and help more underprivileged children win their rights to education, health and development.