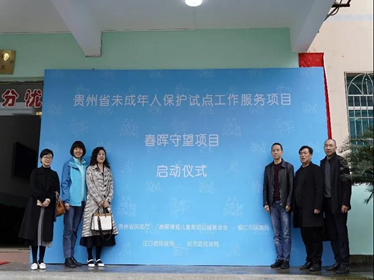 On March 26, 2021, Chunhui Village Program---Pilot Services for Minors—was launched in Jiangkou and Yanhe counties, Tongren City of Guizhou Province. Luo Lan, researcher with the Child welfare division, Guizhou Civil Affairs Office, Luo Qun, first-level researcher with Tongren Civil Affairs Administration, and Chunhui Secretary-general Liu Shan presented themselves at the launching ceremony. Under the guidance of Guizhou Civil Affairs Office and empowered by Chunhui's professional training team, the program endeavors to help the welfare institutions explore a new service model for community based orphaned children, de facto unattended children and rural left-behind children. It is expected to impact 5700 children.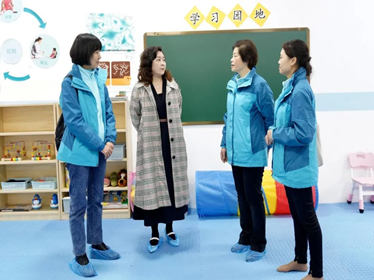 Requested by Guizhou Civil Affairs Office, Chunhui's training team visited some child welfare institutions in Guizhou to evaluate their major risks and the children' psychological wellbeing in 2019. And in 2020, it evaluated community-based orphaned children and de facto unattended children in Tongren City. To effectively put what they learned into practices and perfect child care & protection service, Guizhou Civil Affairs Office decided to introduce Chunhui Village Program. Based in child welfare institutions and relocated at-risk children's centers, the program, with the joint efforts of local governments and Chunhui Children, will benefit thousands of at-risk children.
To gain a good knowledge of pre-build preparations for the program, on March 26, civil affairs administrators visited the program sites in Jiangkou resettlement areas and social welfare institutions. They were impressed and inspired by Chunhui's training. In the follow-up workshop, they shared the wish to step up communication and program planning, specify responsibilities, and deliver the program with the highest level of standards, all with the aim of exploring a duplicable model typical of Guizhou Province.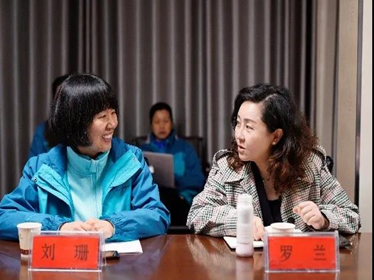 Following the program set-up, the first session of training kicked off in Jiangkou SWI, Tongren City on March 22. It focused on national policies, child rights, program core concepts, child care & education approaches, and child evaluation. The trainees included officials from civil affairs administrations, staff from child welfare institutions, and child supervisors in the resettlement areas. Combining theory instruction with hands-on practices, the trainers helped each trainee learn basic child care & education concepts and skills. Benefiting from these most progressive concepts, the trainees will serve the children in ways that work best for their development in the years ahead.

Chunhui Village Program targets rural left-behind children and at-risk children. In local rural communities, child welfare institutions and resettlement areas, program supervisors help provide left-behind children, at-risk children and their families with such Chunhui-inspired services as policy popularization, policy consulting, rights advocacy, emotional support, developmentally appropriate experiences, community engagement activities, supportive groups, risks prevention…
Under guidance of the local governments, Chunhui Village Program creates early learning centers. It is designed to consolidate rural communities, cultivate a child-centered community culture and create a nurturing environment for the children.
Model site---Jiangkou and Yanhe counties, Tongren City
Inside welfare institutions
Chunhui Children's program supervisors provide individualized learning plans and all-round support for the children based on their development levels and interests. They devote themselves to creating a supportive environment where all children have equal access to learning opportunities.
In resettlement areas for disadvantaged families
The program supervisors set up early learning centers where they facilitate parenting skills training and enriching community engagement activities. They are committed to reshaping community culture and providing services left-behind children and at-risk children need to thrive.