What's New
Chunhui Children obtained the qualification of pre-tax deduction status for donations in the year of 2018 in Beijing.
According to the regulations of Ministry of Finance and State Administration of Taxation, and Ministry of Civil Affair's Notice on Confirmation and Approval of Qualification for Pre-tax Deduction of Public Welfare Donations forwarded by Beijing Municipal Bureau of Finance, Beijing Tax Bureau, Beijing Municipal Civil Affairs Bureau (Beijing Finance and Taxation [2016] No. 297), Chunhui Children's Foundation obtained the qualification of pre-taxation deduction for donations, and ranked No. 160 in the recognized list of community public welfare organizations.
Training of the Trainers (TOT)
The annual Training of the Trainers (TOT) was held in Beijing from March 25-28, 2019. Attending the training were 56 trainers from institutions and villages, and many office staff.
The firstthree-day training covered topics of Blended Learning, Theories of Social Work, Adapted Physical Activity, and Inclusive Education and Inclusive Teaching.
Based on a recent study comparing the effects of on-line teaching and classroom teaching, the session of Blended Learning shared some training skills to help trainers combine on-line teaching and on-site training, which has been proved to be the most effective way to promote learning. Theories of Social Work was a brand-new topic for our trainers, whereas Adapted Physical Activity, and Inclusive Education and Inclusive Teaching provided knowledge long-needed by trainers of the institutional model, who are challenged by the increasing number of children with special needs, and how to provide proper education for them to aid their development as fully as possible.
The training feedback survey has shown that staff are confident in applying what they learned to their daily work, and are looking forward to more such trainings.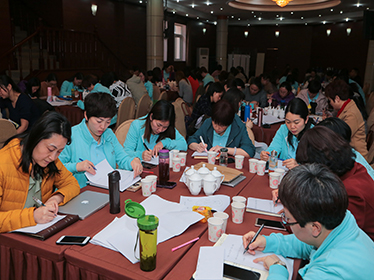 Program Updates
Chunhui Mama Program
In the first quarter of 2019, Chunhui Children continued its work in 26 provinces and municipalities in China, operated six programs in 51 orphanages, trained 1,087 caregivers, and benefited 4,216 children.
New Programs in Beihai CWI of Guangxi Autonomous Region, Anqing CWI of Anhui Province
Two Chunhui programs were built in Beihai of Guangxi Autonomous Region in January and Anqing of Anhui Province in March. During the two builds, Chunhui field trainers carried out new program evaluation, staff training, children's evaluation, inclusive education, environment creation, etc.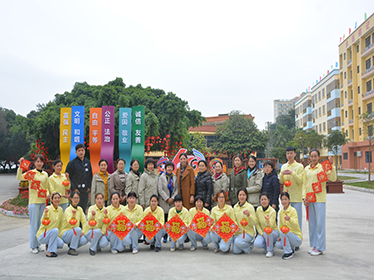 New Chunhui Sports Program
A Chunhui Sports Program was established in Guangzhou SWI. In March, 10 preschool teachers in the Chunhui Preschool Program took the Sports Program training. Currently there are 36 children in the program.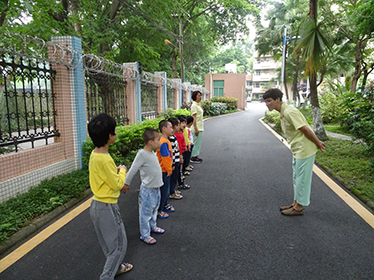 Chunhui Village
The proportion of parents returning home for the Spring Festival in 2019 was 94.82%, compared with 87.49% in 2018. The substantial increase shows the impact of the Chunhui Village program, as more and more parents realized the importance of companionship.
Professional Development Training
In late January, Chunhui Village held a training on "How to Organize Community Activities" attended by eight directors of children's work and community in villages.
In mid-March, there was a five-day training for 67 trainees in the Chunhui Village program, including "Planned Healthy Meals", "Game Management", "Gross Motor Games", "Reading through Playing", and "Games in the Community". After the training sessions, the participants were more confident about their future work, promoting Chunhui's work in the village.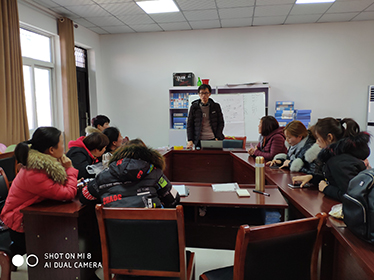 Chunhui Children's Programs are professionally recognized and fully supported by Henan Civil Affairs Bureau.

In February of 2019, Chunhui Village held discussions with Henan Civil Affairs, which recognizes the value of Chunhui programs and hopes Chunhui will cover more children in the poor rural villages in Henan Province. Meanwhile, they recommended Zhe Cheng County in the City of Shangqiu, Henan Province, as one of the Chunhui Village Program choices. Following field research, Chunhui was planning to establish programs in six villages there.
Chunhui Village Program also had a conference and meeting with village heads with Ye County Bureau, Ye County Charity Association. The meeting was also fully supported by the local village committee.
Family Outing on the New Year
In January, 90% of families in Wang Zhuang Village participated in a "Family Outing" activity organized by Chunhui Village. There was much fun, laughter and activity. The grandma of 6-year old Ningning who often participated Chunhui activities in the village program said with excitement, "Thank you so much, teachers of Chunhui! We wouldn't expect our children to have such transformation after attendance in the program. The children who come often to the Chunhui Children's center are more polite and more talented!"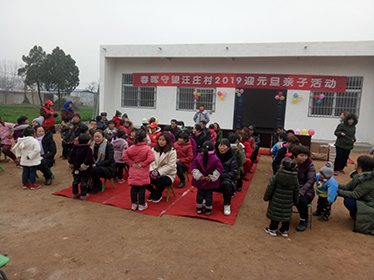 "Welcome My Parents Home"
In order to have more connections between the children and their parents who work outside the village, "Welcome My Parents Home" activities were held in almost all villages where Chunhui Village Programs are operating. This has become a good end-of-the-year tradition in each village.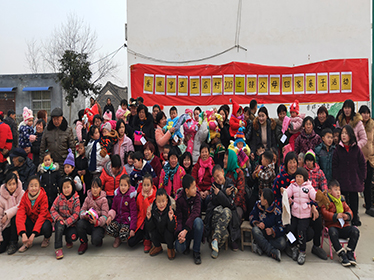 Family Handwork Activity Welcomes Women's Day on March 8th
In March, A family handwork activity was carried out to prepare for Women's Day in the Zhuangtou Village. The children made beautiful frames for their moms as presents. This activity enhances the intimacy between the children and parents, helping the parents know the importance of companionship for the children, aged 3-6.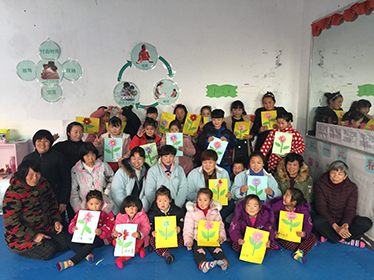 Chunhui Care Home
In the first quarter of 2019, Chunhui Care Home (CCH) received and treated 30 children, coming from 21 orphanages in China, and completed 33 surgeries. 57 Chunhui Mamas in the Chunhui Care Home provided the children with round-the-clock care and nurture.
Crowd Fund-Raising
Alibaba Public Welfare Platform
From January 1st to March 31st, "Chunhui Mama Protects Orphaned Children" program received a donation of RMB 43,011.65, with online donors totaling 32,436 and donations times totaling 562,256. (See the details in the link below, "Chunhui Mama Protects Orphaned Children" page on Alibaba Public Welfare Platform)
https://gongyi.bbs.taobao.com/detail.html?spm=323.83552.373287.10.597a1ba0kAKX99&appId=9703&postId=5641722
In the first quarter, "Chunhui Mama Protects Orphaned Children" in Chunhui's Taobao Online store was chosen to be one of the New Spring Festival Programs in February on Alibaba Public Welfare Platform and participated in the campaign "You're not Only a Beautiful but a Kind person" on Phone app-Taobao in March. The two campaigns online help Chunhui's "Chunhui Mama Protects Orphaned Children" earn more supporters.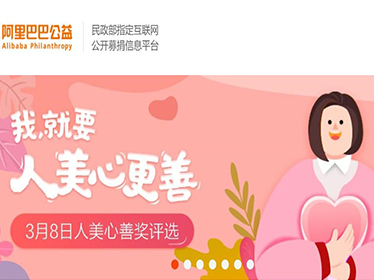 Ant Financial Online Charity Platform
In the Spring Festival of 2019, Chunhui's online donation programs "Give Orphans Motherly Love" and "Let Chunhui Mama's Love Heal the Pain" were chosen to participate in the campaign "Charitable Sugar-Coated Fruit" on Ant Financial. This means the public supported Chunhui Children by participating in a fun and diverse way.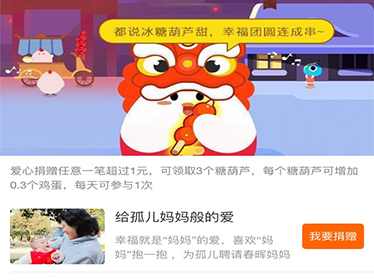 In late March, "Give Orphaned Children Motherly Love", in cooperation with Cango Group, State Street, Mead Johnson, Shanghai Changchi Cultural Development, and Pricewaterhouse Coopers launched a walking fund drive which attracted many supporters and participants.
Tencent Charity
From January 24th to February 14th, Chunhui worked with Tencent Charity and participated in its online campaign "Who will you give your first red envelope to?" for two weeks and got donations and support of 13,911 times online.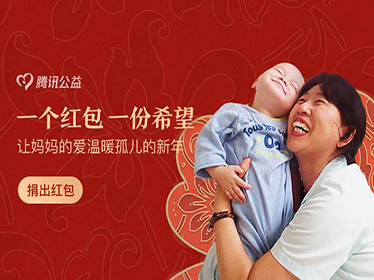 Media Communications
Chunhui launched its theme song and audio album in the first quarter of 2019, promoting Chunhui's branding and influence to the public.
Cooperation with Ximalaya (China's audio-sharing app)
Chunhui Children and China's famous audio-sharing app worked jointly on an audio album—"The Brightest Stars on Earth," telling 10 Chunhui stories. This campaign was generously supported by 10 Chinese celebrities including: Ning Chang, Mingen Zhang, Aaron Yan, Carmen Lee, Wan Qian, Yixiao Lou, etc, who, together with Chunhui Mamas, told the stories to each audience.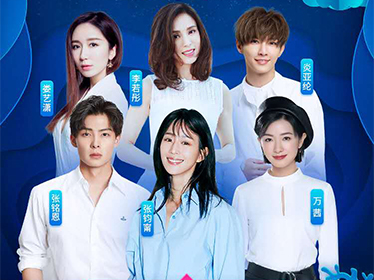 Cooperation with HiFive (China's music copyright management company)
Chunhui Children managed to work with HiFive company who will help produce Chunhui's theme song, sung by Ning Chang, a famous Taiwan actress.