What's new
1. 2020 "You Are My Family" Gala
On the night of Sept 26, Chunhui Children's 2020 "You Are My Family" gala was unveiled. Unlike traditional Chunhui nights, this live stream gala used new media technology and was delivered both online and offline. It was the first of its kind hosted by a charitable organization. Over 300 loving supporters voiced online for the children. A total of RMB 4.3 million was raised, all of which would go to Chunhui programs.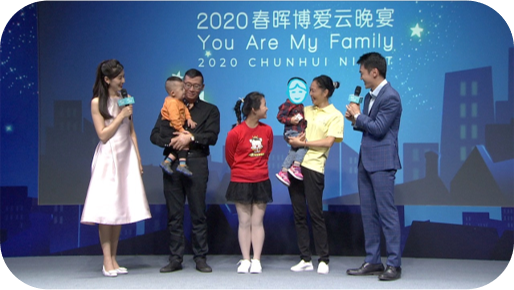 2. Onsite rating evaluation
On August 30, 2020, Chunhui Children received social organization rating. What it has been doing in the past years for the children was favorably commented.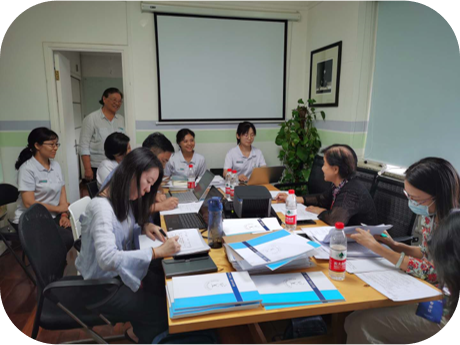 3. Chunhui Children was titled "Organization Exceling in CPC Party Building"
On July 20, 2020, afternoon, the 2020 commendation ceremony was launched by the CPC Party committee in charge of poverty alleviation and social assistance foundations, and Chunhui Children won the title of "Organization Exceling in CPC Party Building".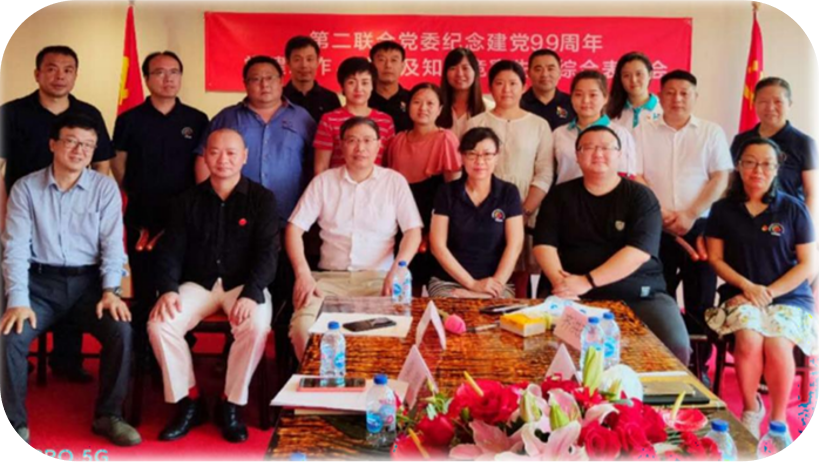 4. Chunhui Children received inspection on the Charity Law enforcement
On August 19,2020, Dai Tianfang, representative of the National People's Congress, visited Chunhui Children to check on its enforcement of the Charity Law. He acknowledged Chunhui for honoring the law while committing all its efforts to the children.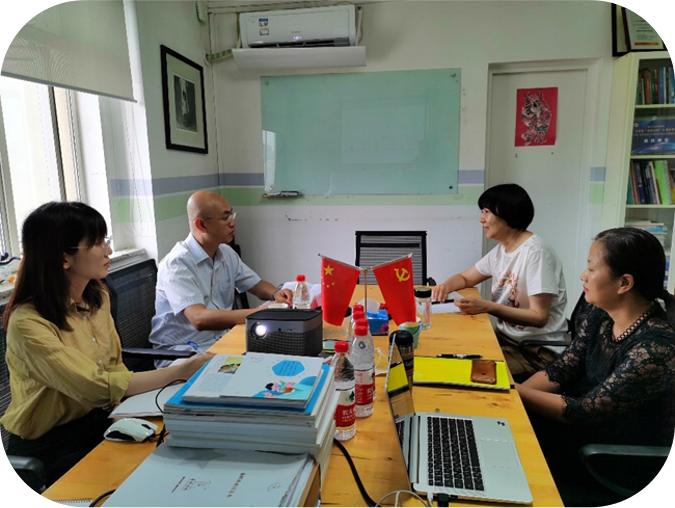 Program Update
I. Chunhui Mama program
1. Chunhui Children reaches out to more disadvantaged children
In August, Chunhui Children undertook the program of Tongren (Guizhou) Civil Affairs Administration to evaluate orphaned children under family-based care and de facto unattended children. Within a week, 16 evaluation teams of 42 trainers visited more than 360 families in 142 villages, 64 townships of 10 counties under the jurisdiction of Tongren City. They evaluated 521 children on site, had phone interviews with 601 others and submitted four comprehensive evaluation reports. The evaluation project marks Chunhui Children is moving beyond welfare institutions to serve orphaned children under family-based care and de facto unattended children in communities/rural areas. A new area of commitment is developed.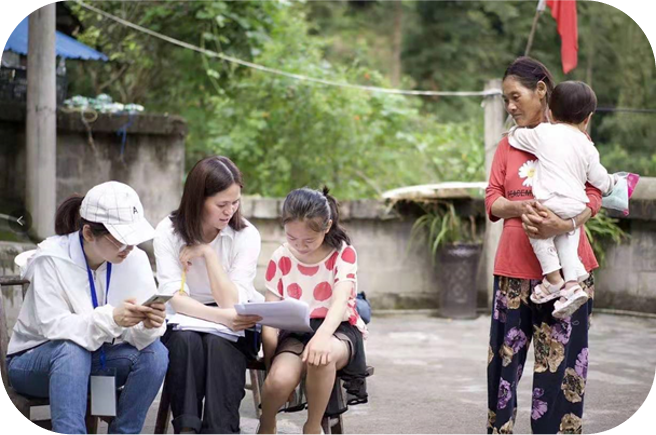 2. From implementing to drawing up standards
Requested by Jiangxi Civil Affairs Office, Chunhui Children took on the task of developing local Standards on Integrating Rehabilitation & Special Education Services for Children in Welfare Institutions (the Standards). After much consulting and sharing with professionals expertized in child care and education, the Standards for comment, drafted in line with applicable laws & policy and ruled by the "lifelong management of the whole child" philosophy, was made public in Sept. This shows that Chunhui Children has grown enough to draw up child care and education standards independently.
3. Jiangxi provincial government funds evaluation project
In September, Chunhui Children took fund from Jiangxi provincial government to evaluate and support the psychological wellbeing of at-risk, orphaned and abandoned children. A focal part of the project is Ganzhou Child Welfare Institution. Within 10 days, Chunhui's evaluation team completed initial evaluation of 50 children and set up the pilot rehabilitation & special education integration program in the institution. Going forward, Chunhui Children will spare no efforts to provide quality psychological support and rehabilitation & special education services for the children. This evaluation project helps Chunhui Children build a closer relationship with the Ministry of Civil Affairs, Jiangxi Civil Affairs Office and Ganzhou Civil Affairs Administration. More at-risk and orphaned children will be benefited.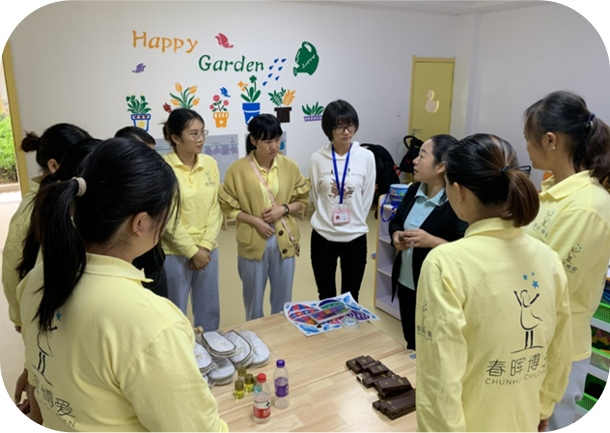 II. Chunhui Village Program
1. Professional training

In Q3, Chunhui Children provided 2 sessions of online training and 6 sessions of onsite training for 300 front-line staff, child welfare directors and parents. The training covered such topics as "A good way of educating children---developing good habits", "Family care skills (30th-43th sessions of the curriculum)", "Nutrition and diet", "Youths' ways of development and network literacy", "Application of PEDI", and "Professional development of child welfare directors". They help the trainees build up knowledge, more importantly, set up a platform for the 90 trained child welfare directors to learn and share.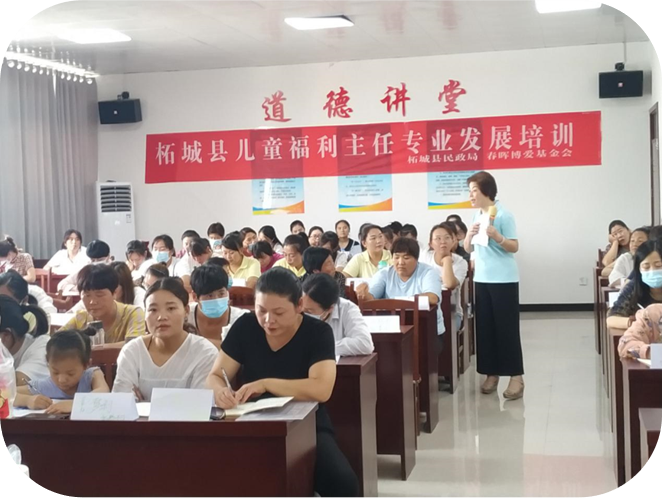 2. Enriching educational activities during summer vacation
This quarter, neighborhood visits and safety education activities won recognition and support from heads of the program villages. Villagers and youths who are away from home most of the time were paying attention as well. With more and more villagers joining in, the activities have been making a big difference.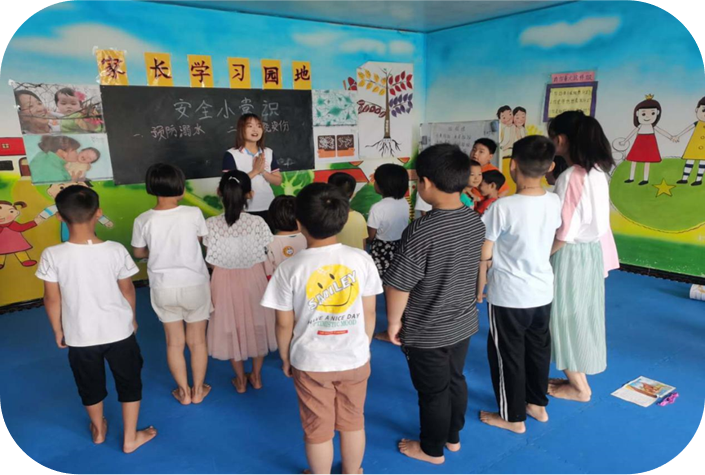 III. Chunhui Care Home
1. Chunhui Care Home established partnership with the Tomorrow Plan" of Hunan Civil Affairs Office
On August 19, Chunhui Care Home signed a contract with the "Tomorrow Plan" of Hunan Province. As agreed, professionally trained Chunhui mamas will provide loving care for orphaned children receiving surgeries in designated hospitals. With this agreement, Chunhui Care Home is expanding its services from Beijing and Shanghai to Hunan. More children fighting for their lives will benefit from the professional nurturing care of Chunhui Mamas.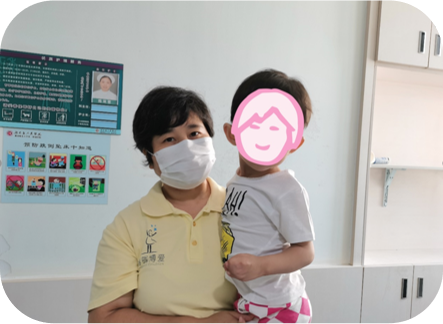 2. Administrators from the MCA visited the National Research Center for Rehabilitation Technical Aids
On August 25, a group of MCA administrators including deputy minister Gao Xiaobing visited the National Research Center for Rehabilitation Technical Aids and its affiliated rehabilitation hospital. As the program base of Chunhui Care Home, the hospital houses 20 children receiving pre/post surgery care every day. In the rehabilitation hall, the two ministers Gao and Li provided the children with loving gifts, asked about their conditions and took a group photo with the staff around.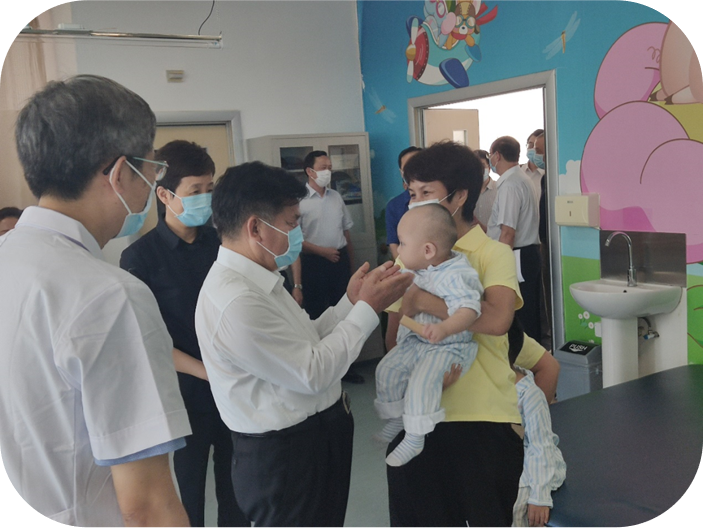 Fund-raising update
1. "Chunhui Mamas Give Orphaned Children a Second Chance at Childhood" Campaign
From July 1 to September 30, the campaign "Chunhui Mamas Give Orphaned Children a Second Chance at Childhood" on Alibaba platform received 73000 donations totaling RMB 5,538.78 from 10,007 buyers.
See the following link for details:
https://market.m.taobao.com/apps/market/content/index.html?wh_weex=true&source=preview&contentId=273960334935)
2. Live stream birthday party for orphaned children
On August 27, in Chunhui Care Home (Beijing), Chunhui Children presented the "birthday party for orphaned children" live stream on Alipay and Taobao. Our special guest actress Lianlian video called to send best wishes. The children had a great time. The two platforms together recorded 180,000 views, 300,000 "thumb-ups", 876 new fans and a donation totaling RMB 13000.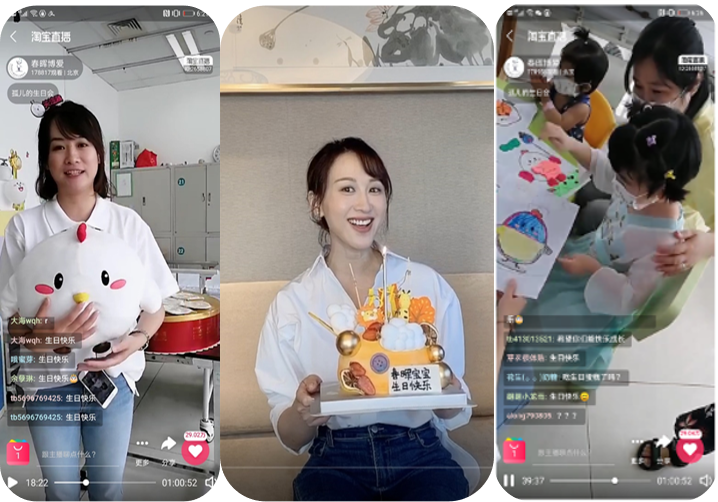 3. Live stream "Interview with Chunhui mamas"
On Sept 7, 2020, an "Interview with Chunhui mamas" was live -streamed on Tencent Kandian Webcasting platform. As 2020 is the 20th anniversary of Chunhui Mama Program, we invited three Chunhui mamas to video share their stories with the children under their care. This live stream recorded 11000 views, 20000 "thumb-ups", 492 interactions with the audience, and 23 new followers.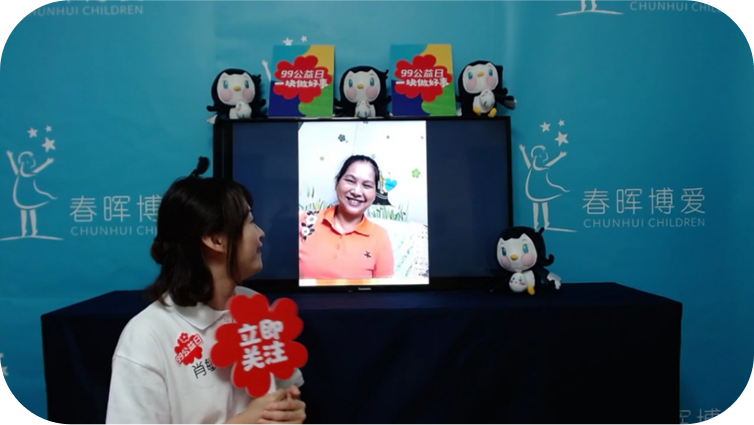 4. Didi Chuxing supports Chunhui Mama Program
In September, China's leading ride-hailing firm Didi Chuxing partnered with Tencent Sept 9 philanthropy campaign to support Chunhui Mama Program. Chunhui mamas were invited for interviews. An H5 was designed for the event, encouraging the public to donate mileages to facilitate the business travels of Chunhui mamas. The H5 registered 38 million views on Tencent platform and wechat moments, and 85 million views on DIDI APP. This event helped Chunhui Mama Program raise 840,000 mileage points, making it easier for Chunhui mamas to visit hospitals with the CCH children.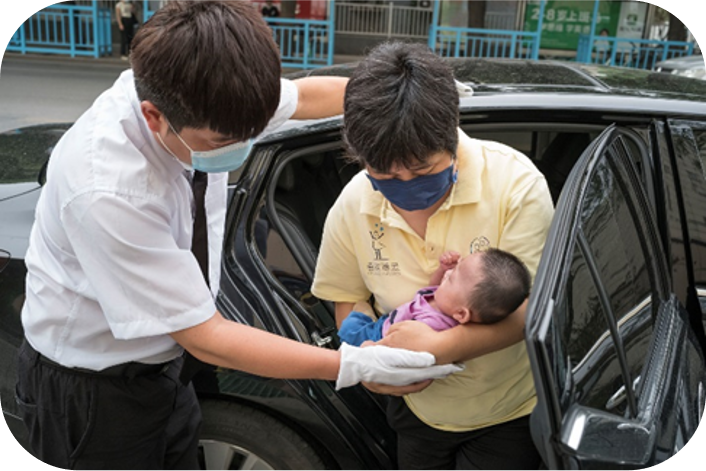 Brand building
1. Ads for Chunhui Mama Program put up in subway stations at four phases.
From July to September, LeLion Cultural Media Co.,Ltd designed a package of ads for Chunhui Mama Program. 83 LCD light boxes, three LCD panels and 24 escalator-side ads were put up at Guomao, Dawanglu, Dongdan, Xidan and Wangfujing subway stations at four phases. The themes of the ads include "Chunhui Mamas---mothers of orphaned children", "Sept 5 philanthropy week", "Sept 9 philanthropy day", "Everyone supports charity" and "798 child arts exhibition".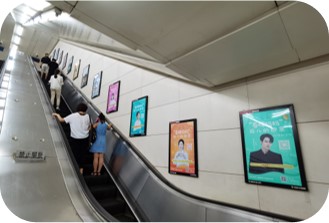 2. Secretary-general Liu Shan presents at 2020 "Everyone Supports Charity" Gala to share Chunhui stories
The "2020 Everyone Supports Charity" live stream gala jointly hosted by CCTV6 (Movie Channel),People's Daily (New Media) and Microblog kicked off on Sept 4, 8pm.Chunhui Children's Secretary-general Liu Shan joined hands with actress Zhang Junning to share Chunhui Mama Program and its core concepts. "The professional nurturing care of Chunhui mamas has created miraculous changes," she said. As is stated in its mission, Chunhui Children will never stop helping the vulnerable children until each one of them has a loving adult by their side.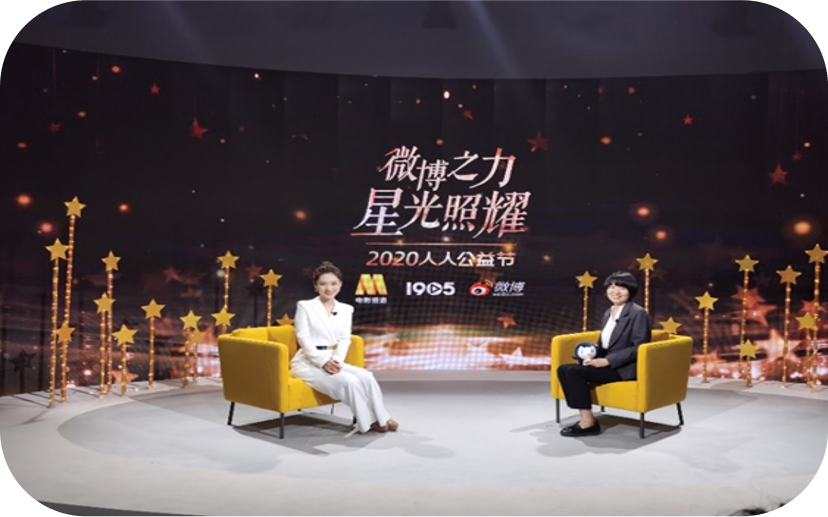 3. Actress Zhang Junning and Chunhui teenage girl completed artworks together
On her birthday, Chunhui Children's ambassador of love Zhang Junning video chatted with Lanlan, a talented girl with one of Chunhui programs. Together they completed a nice picture themed Covid-19 prevention. The picture was showcased at the "2020 798 Child Art Exhibition".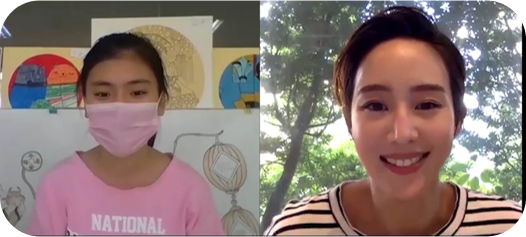 4. Actress Wan Qian visited CCH
On Sept 21, Wan Qian visited Chunhui Care Home. She and the children worked together to create a picture themed "Mid-autumn Day", which was put on display at the"2020 798 Child Art Exhibition" in early October (The National Day Holiday).