What's new
Chunhui Children received inspection from the Social Organization Management Office (SOMO) of Beijing Civil Affairs Administration (BCAA).
In late September, Chunhui Children was inspected and acknowledged by the SOMO of BCAA. On that very same day, all staff members sang My Motherland and I together to celebrate the 70th anniversary of China.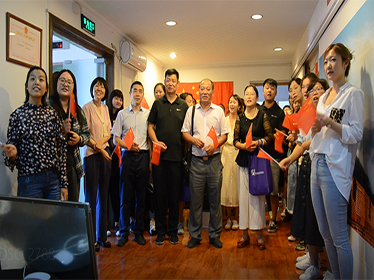 2018 annual report
Chunhui Children's 2018 annual report was produced. You are welcome to review the achievement and development of Chunhui Children in 2018. (https://www.chbaf.org/information)
Program Data
Chunhui Mama Program
Chunhui Mama programs were run in 57 welfare institutions.
7,147 orphaned children were benefited.
1,615 Chunhui mamas work with the programs.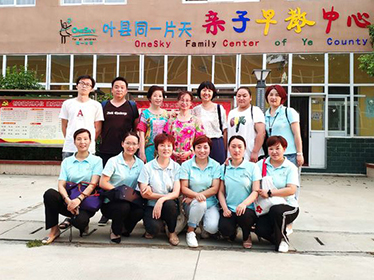 Chunhui Village Program
First training session rolled out in 6 new program villages.
Interest-enriching groups were set up in 6 program villages.
Chunhui Care Home
64 orphaned children suffering from life-threatening diseases were benefited.
Partner institutions increased by 4.
35 Chunhui mamas provide nurturing care for the children.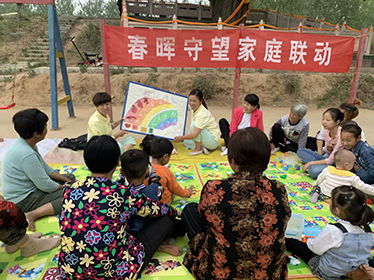 Program news
Executives of Chunhui Children visited Chunhui Village Program sites
On July 28 and 29, 2019, Secretary-general Liu Shan and Chief Program Quality Officer Wen visited Qiancui Village, BeiPangZhuang Village, and the Welfare Center of Ye County. Liu Shan and Wen recognized the program achievements and made clear areas that need improvement.
Program cooperation
On August 8, 2018, Chunhui Children set up Chunhui Mama Program in Pingliang CWI, the second seed it sowed in Gansu Province. Ten-day intensive training was provided in the institution.
From Sept 17 to Sept 26, Chunhui Children brought Chunhui Mama Program to Lhasa CWI and gave ten-day training focusing on the three key program concepts, youth mentoring and environmental set-up.
From July 15 to August 25, Chunhui Children evaluated the children's development in 30 program villages of Ye County, and the results show that the program children of 0-3 years have made marked progresses in physical, cognitive, social and emotional development.
During Sept 17-19, in the Civil Affairs Building of Zhecheng County, Henan Province, Chunhui Children provided three-day training and on-the-spot guidance for the directors of 42 Children's Homes.
Program empowerment
In the two days Oct 17 and 18, Chunhui Children was invited to the International Conference on Early Childhood Education held by SEAMEO-CECCEP.
From August 6 to Aug 8, the regional training for Chunhui Babies Program mentors from East China took place in Suzhou SWI, Jiangsu Province.
Program activities
In August 2019, Urumqi CWI and Chunhui Children celebrated their tenth anniversary of cooperation, an occasion that means power, hope and change for both parties.
From July to late August, Chunhui Children scheduled two training sessions themed Rainbow Healthy Diet and Stay Safe in Summer Holiday in program villages to build up safety and health awareness.
2019 is the tenth anniversary of Chunhui Care Home (Beijing) and also the year when Chunhui's Shanghai Care Home was started up. We celebrated this special year in both Beijing and Shanghai. Chunhui babies and Chunhui mamas gathered to enjoy sweet cake and share their happiness.
Right before the Mid-Autumn Day of 2019, nine staff members from Bank of America, Beijing Branch spent a loving morning with the children in Chunhui Care Home.
Fund-raising update
"Ant Forest" Scheme on Alipay---Forest of TV show stars
In August 2019, Chunhui Children invited the well-known actors Lu Fangsheng, Li Guangjie and actress Lareina Song into the "Ant Forest" scheme, in the hope of winning more social attention for the orphaned children with Chunhui programs.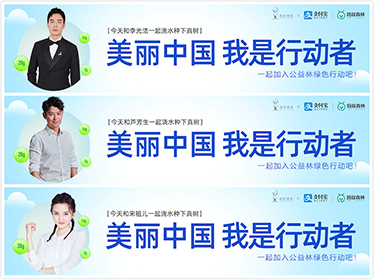 Sept 5 philanthropy week
From Sept 1 to Sept 9, 2019, as the online fund-raising platforms designated by the MCA, Alibaba and Alipay launched their third "Sept 5th Philanthropy Week" campaign. Invited by Chunhui Children, Chinese actor Zhang Ming'en and and actress Rachel Momo spoke for the orphaned children on the two platforms and also on Chunhui's official microblog. All the money Chunhui raised from this campaign went to Chunhui Mama and Chunhui Care Home programs.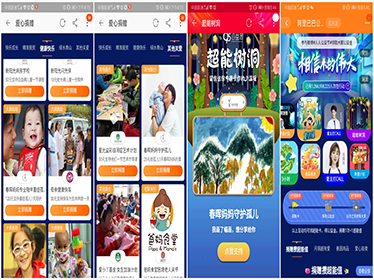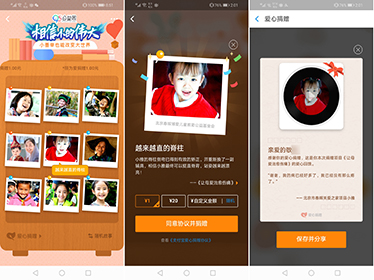 Sept 9 Philanthropy Day
Starting from Sept 7 to Sept 9, 2019, a number of loving companies, actor Zhang Han (Hans Zhang), actress Zhang Junning(Ning Chang) and their fans joined Chunhui Children in the Sept 9 Charitable Initiative. They voiced their support for the needy by donating together, donating steps and donating offline. By the morning of Sept 10, Chunhui received 5189 donations totaling RMB 532,064.04 for Chunhui Mama and Chunhui Care Home programs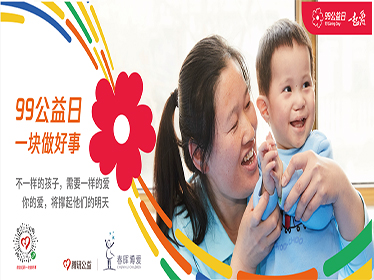 Alibaba Group's "Philanthropy Item Plan"
From July 1 to Sept 30, 2019, "Chunhui Mamas Give Orphaned Children Loving Care" Program admitted by the "Philanthropy Item Plan" of Taobao pocketed 20,739 donations from 8098 loving sellers totaling RMB 2461.54. (For more information see the official post on Alibaba's online platform.https://gongyi.bbs.taobao.com/detail.html?spm=323.83552.373287.10.597a1ba06E13hm&appId=9703&postId=5641722)
Communications
Carman Lee visited Chunhui Care Home
On the afternoon of July 17, Hong Kong actress Carman Lee and her team visited the orphaned children suffering from severe diseases in China Care Home (Located in National Rehabilitation Hospital). (https://gongyi.sina.cn/gyzx/ngo/2019-07-18/detail-ihytcerm4517340.d.html?from=wap)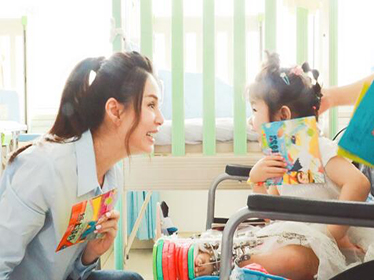 Sina • Philanthropy Alliance of Stars: The Story of Carman Lee and Chunhui Babies
After she visited the children of Chunhui Care Home, Carman Lee was given an exclusive interview by Sina • Philanthropy Alliance of Stars. She wishes to help make Chunhui programs and the orphaned children they serve known to more people.
Advertisement in Shanghai subway stations
On July 3, with support from STDecaux, Chunhui Children's advertisement Chunhui Mamas Give Orphaned Children a Second Chance at Childhood appeared in Shanghai subway stations. The microblog on this ad registered 20000 views, 20,7053 relays, 12,6554 comments and 26,952 likes.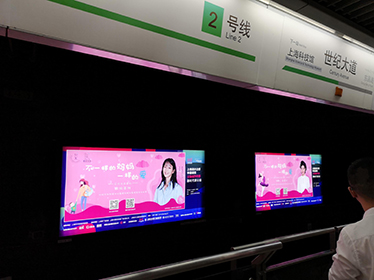 The audio album The Brightest Stars on the Earth was put on Himalaya FM
On July 19, Chunhui Children put its audio album The Brightest Stars on the Earth on Himalaya FM.
The microblog also themed The Brightest Stars on the Earth was well received among microblog users. It recorded 32950 views and 88000 comments.
Fans team of Ning Chang visited Chunhui Care Home
On August 25, the fans of Ning Chang visited CCH's orphaned children fighting for their lives in the National Rehabilitation Hospital. They had a great time with the children, showing them how to building Lego blocks, and sharing nice snacks with them. These loving fans spoke favorably of the program and wish to continue with their support for the children.
Shanghai Jiefang Daily interviewed Chunhui Care Home
On Sept 6, Chunhui Family Program in Changzhou CWI received an exclusive interview from Shanghai Jiefang Daily. For more information see the article Family-like Love---Professional Parents for Orphaned Children in Welfare Institutions published on Sept 25. https://web.shobserver.com/wx/detail.do?id=178150&time=1569365130667&from=timeline&isappinstalled=0)