sunshine and warmth
"It's important to make self-discipline a habit. Now I feel great running freely each morning," said Dongdong, "Mama, I will give you a gift on each Mother's Day and I wish you happiness and health forever."
It's hard to believe that this thriving young man was once the most delicate little boy Mama Yuhua nurtured in her Chunhui family.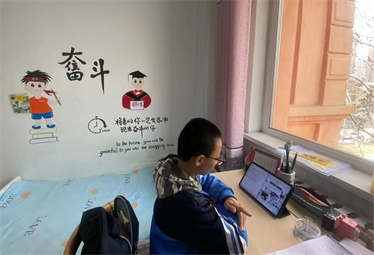 Mama Yuhua· Notes
I have been honored to work with Chunhui Children for ten years. In all these years I watched the children under my care grow up, leave me and finally have a home of their own…… I am a foster mama of Chunhui Family Program and I find it's bittersweet to care for orphaned children.
When Dongdong first came to Chunhui family Program, he was 15 months old. The small and fragile little boy was very picky about food and susceptible to colds. I took him to the doctor frequently. To build up his health, I helped him do rehabilitation exercises every day.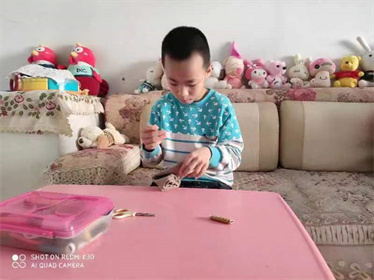 Now, Dongdong is 12. He has grown into a big sunshine boy who has good health and loves running in the morning. Inspired by him, the other children start running too. "Self-discipline is important for developing good habits," the boy often says.
Dongdong is a caring boy as well. He often helps around the house and cares for our younger son. Each morning before he goes to school, he says:"Mama, see you." When he gets back home from school, he says: "Mama, I'm back." I give them all my love and they reward me with gratifying progresses and changes.
On 2022 Mother's Day, Dongdong wrote to me: "Mama, I will give you a gift on each Mother's Day. Wish you happy and healthy forever." We are not related by blood, but we have an emotional bond stronger than that of kinship.
Kindness comes full circle. In the past decade, growing under our loving care, our children have learned to love too. Love is the most beautiful language in the world. In the years ahead, I will continue to work with Chunhui Children and touch as many young vulnerable lives as possible.

Wish you all the best
"The ice cream is gone. The ice cream is gone. It's for dad," Xian burst out crying.
Xian has mental impairment. In his earlier days with Chunhui Family Program, he was slow to respond and react. But under the loving care of his foster parents, his mental ability kept improving, and he learned to think and express.
Mama Songwei· Notes
How time flies. Ten years have passed since I joined Chunhui Children. In the past decade, the orphaned babies and toddlers I nurtured blossomed into youthful teens. Those with special needs developed self-care skills, and those with little language learned to communicate. I take pride in each of their smallest progresses and changes.
I remember clearly that the first day Xian came to our family, I was told that: "Xian has mental impairment and needs extra support in language and emotional skills." I realized that to develop a close bond with children like Xian, I need be patient and help him fit into our life slowly rather than push him or leave him alone.
Every day, I spent some time with him watching cartoons, listening to music or taking him outside for fun. I talked to him with soft words: "Xian, these are chopsticks. We pick up food with them. And this is a spoon used for soup." "Xian, this is a piece of paper. We may use it to make all kinds of little animals." Over time, he developed affection for us. He politely responded "hi" to our greetings. Every day when dad got back home from work, he kindly put dad's slippers at the doorway……
One day, Xian got back home from school. He said to me with excitement: "Mama, ice cream for dad" while fumbling in his pocket. He finally took his hand out, only to find that the ice cream had melted away. Holding the bare bar, Xian burst out crying: "The ice cream is gone. The ice cream is gone. It's for dad!"
Later that day I learned that the institution gave each child an ice cream. Xian asked for two, one for himself and the other for dad. But it was so hot that the one for dad melted away. Well, never mind the ice cream. Xian cared for dad. That was his big progress, wasn't it?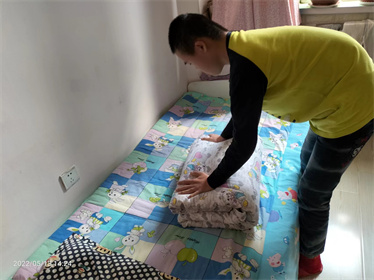 Some of the children under my care have developed self-help skills, some have learned to love, and still some others finally have a family of their own. All of them make my past ten years matter. As part of Chunhui Children, the one big loving family, I feel incredibly proud and happy that I have touched so many delicate young lives.